Many people need to hire a company to take care of their cleaning. Since they have multiple companies, they need to make sure they hire professionals who clean properly.
Likewise, those who don't own companies also need a cleaning company because they own a warehouse or want someone to clean their house.
Regardless of your motive, lots of people hire cleaning companies all the time. In Kilkenny, it can be hard to find a good and trustworthy one.
In this article, we will discuss a commercial cleaning service in Kilkenny called Clean Master. We will talk about the services it offers and many details you won't want to miss.
What's Clean Master?
It's a cleaning based company in Kilkenny, Ireland. It provides cleaning services to many institutions like schools, restaurants, hospitals and more.
In Clean Master, part of their motto is providing a cost-effective cleaning solution to their clients.
Thus, what we want in the end is that you feel peaceful and relaxed every time you consider your cleaning.
What services does Clean Master offer?
Now that we talked about what's Clean Master, it's time we get into detail about the services we offer to their clients.
Home Cleaning
One of Clean Master's most popular services is home cleaning. We will take care of everything related to making your home clean.
If you own different properties, you can hire Clean Master. However, if you are only moving from your current home to a different one, Clean Master's Home Cleaning service is also suitable for you.
Clean Master takes care of different cleaning procedures like cleaning the carpet, hardwood floors, kitchen, common areas, bedrooms and more.
Carpet Cleaning
If you don't hire a good and professional cleaning company to clean your carpet, you might have different issues.
First of all, you will spend extra money. Besides, you won't get the results you wanted, and they could even damage your carpet.
This won't happen with Clean Master. If you hire their Carpet Cleaning service, we will provide you with affordable and high-quality carpet cleaning.
Although many people worry about discoloration, shrinking or furniture stains when they hire a carpet cleaning company, Clean Master guarantees no harm will come to your possessions.
Commercial Cleaning
With more than 26 years of experience providing cleaning services, Clean Master is one of the best professional cleaning companies in Kilkenny, Carlow and Waterford.
Since Clean Master has years of experience with commercial clients, we are among the top companies to offer high-quality services for other enterprises.
Among the commercial cleaning processes you can hire, Clean Master offers pool, warehouse, retail, industrial, manufacturing, education, school and hospitality cleaning.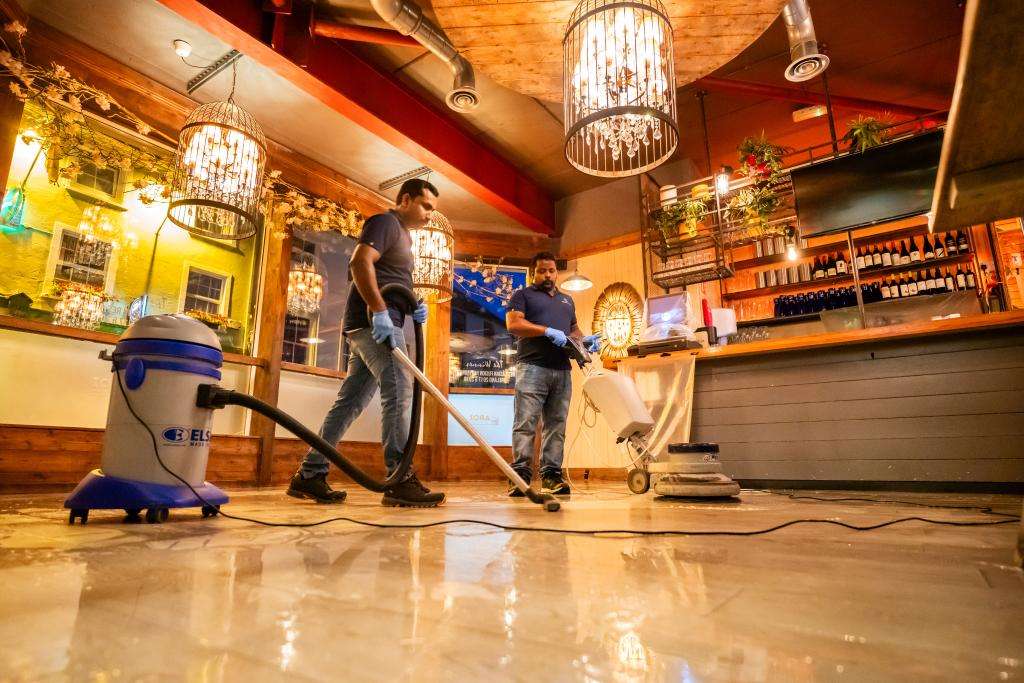 Hard and Wooden Floor Cleaning
Clean Master believes the floor is an essential part of your home or company. It's the first impression you give people, and it should make you shine.
However, many floors host dirt and grit, especially if lots of people walk through them. This is where Clean Master comes in.
In Clean Master, professionals use special techniques to take care of your floors. Thus, you can hire them to clean your marble and stone floors, tiles (like porcelain or ceramic), state, terracotta, real and imitation wood, vinyl and much more.
If you hire Clean Master, we will establish a strategy for your cleaning according to your floor's needs. You don't have to worry about having dirty floors anymore because you will be at the hands of top professionals in the field.
Window Cleaning
One of the most important aspects of having a clean home or company is to have shiny and beautiful windows.
We make your home or office look brighter, and we allow you to look outside and relax. In these cases, the window cleaning service by Clean Master is one of the best ones you can find.
If you're in Kilkenny, Carlow, Clonmel, Tipperary or Waterford, you can hire Clean Master and make your windows look beautiful.
Newly Constructed Buildings
If you work with a newly constructed building, you know it's impossible to keep them clean until construction is over.
After that, dust, debris and dirt will probably cover most surfaces. The best option in these cases is to hire a professional cleaning company like Clean Master.
Clean Master can offer all types of surface cleaning, wall washing and dust cleaning in every part of the building.
Besides, one of the best aspects about Clean Master is that our prices are very affordable compared to other companies within the same category.
Our team of professionals wants to ensure clients will feel satisfied after the cleaning services. Thus, we do everything to guarantee your surfaces are bright and spotless.
How can I hire Clean Master?
Like we previously mentioned, Clean Master is an excellent cleaning service if you are located in Kilkenny.
If you want to hire us, you can contact through the website (Clean Master) by sending a message describing what you want.
You can also visit us during business hours, from Monday to Friday from 9 am to 6 pm. Likewise, you can call us or send an email describing what you want.
Final thoughts
It can be hard to find a good cleaning company that fulfills all your requirements, regardless of your reason to hire them.
So, if you have a home or a company, you might need top professionals to take care of your cleaning.
If you hire Clean Master, we can handle office cleaning, warehouse cleaning, malls, retail cleaning, hospitality cleaning, restaurants, creche cleaning and schools.
Since we are professionals with over 26 years in the field, we are trustworthy people that will leave your surfaces spotless.
Besides, even though we offer high-quality cleaning, our prices are very affordable, and we probably fit your budget.
Therefore, if you need to hire a commercial cleaning service in Kilkenny, Clean Master is probably an excellent choice for you.